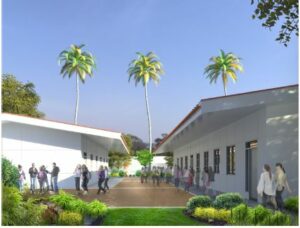 DOWNLOAD PLANS AND SPECIFICATIONS
PROJECT DESCRIPTION: The scope of work includes, but is not limited to: Construction of two single story classroom buildings, 1 duplex and 1 triplex. Scope includes associated site work, structural, mechanical, plumbing electrical and fire alarm. The total gross square feet of the buildings are 8,790 sq. ft.
This is a prevailing wage project.
The applicable trades: abatement, site clearing, grading, underground utilities, trenching/backfilling, hard demo, soft demo, concrete, site concrete, asphalt paving/striping, structural steel, insulation, standing seam roofing, sheet metal, sealants, doors/frames/hardware, aluminum windows, tubular daylighting devices, glazing, plastering, drywall, tile, resilient base, site fabricated acoustical/tackable fabric system, painting, visual display surfaces, signage, automatic retractable acoustical interior glass wall, toilet accessories, fire protection specialties, roller shades, plumbing, HVAC, electrical, communications, fire alarm detection system, fencing, landscaping/irrigation, decomposed granite surfacing,  playground surfacing, and SWPP's
INSURANCE: Bidders shall provide the following insurance minimums: commercial general liability insurance products, completed operations, waiver of subrogation, protective coverage with non-owned & hired vehicles; $2 million each occurrence. Additional insured and hold harmless per endorsement CG 2010 form 1185 or equivalent, comprehensive automobile liability and Workman's Compensation Insurance, including waiver of subrogation, for at least $1 mil each occurrence.
BONDING: Performance and labor bonding may be required; costs will be added to your proposal.
BID DATE:  Tuesday, Tuesday March 16, 2021 @ 2 PM.
RFI DEADLINE: March 1, 2021 @ 12 PM.
Email your proposals to  immel@mcgillivrayconstruction.com and russell@mcgillivrayconstruction.com
 or fax to 805-648-5875.
MCGILLIVRAY CONTACTS:  Russell Trozera russell@mcgillivrayconstruction.com for specific questions about the plans or the project; David Immel immel@mcgillivrayconstruction.com  for general inquiries.
PLANS AND SPECIFICATIONS: Plans and Specs can be viewed in our office plan room at 3140 Loma Vista Road, Ventura, Ca. 93003. Plans & Specs can be downloaded by clicking the "Download Plans & Specifications" button at the top of this page.