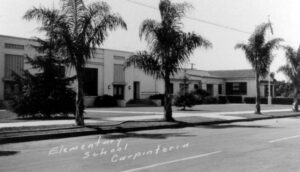 PROJECT DESCRIPTION:
THE WORK OF THIS PROJECT CONSISTS OF ALTERATIONS TO EXISTING SCHOOL BUILDINGS; CLASSROOM BUILDING "A" AND MULTIPURPOSE BUILDING "B", THAT SHALL CONSIST OF, BUT NOT LIMITED TO THE FOLLOWING:
-PAINTING EXTERIOR
-DEMOLITION OF EXISTING ROOFING
-REROOFING (ROOFING REPLACEMENT), ASSOCIATED SHEETMETAL AND ROOF DRAINS REPLACEMENT
-REPLACEMENT OF SKYLIGHTS WITH NEW
-ROUGH CARPENTRY, PATCHING, & REPAIRS,  ASSOCIATED WITH AND MADE NECESSARY BY THE REROOFING AND SKYLIGHT WORK.
-INCIDENTAL ELECTRICAL & MECHANICAL/PLUMBING, AND PLASTERING ASSOCIATED WITH AND MADE NECESSARY BY THE REROOFING WORK.
SCHEDULE OF ALTERNATES:
ALTERNATE #1 (list cost separately)
ROOFING REPLACEMENTOF SLOPED (CLAY TILE) ROOFING AREAS OF CLASSROOMS IN BUILDING "A" AND MULTIPURPOSE BUILDING "B" AS INDICATED ON THE PLANS
THIS IS A PREVAILING WAGE PROJECT
INSURANCE: Bidders shall provide the following insurance minimums: commercial general liability insurance products, completed operations, waiver of subrogation, protective coverage with non-owned & hired vehicles; $2 million each occurrence. Additional insured and hold harmless per endorsement CG 2010 form 1185 or equivalent, comprehensive automobile liability and Workman's Compensation Insurance, including waiver of subrogation, for at least $1 mil each occurrence.
BONDING: Performance and labor bonding may be required; costs will be added to your proposal
RFI DUE DATE:  January 20, 2023 1:00 pm
BID DUE DATE:  January 26, 2023 1:00 pm
MCGILLIVRAY CONTACTS:
PLANS AND SPECIFICATIONS: Plans and Specs can be viewed in our office plan room at 3140 Loma Vista Road, Ventura, Ca. 93003. Plans & Specs can be downloaded via the link below Press Ctrl + Click to open link.  Or, copy and paste the link into your browser.