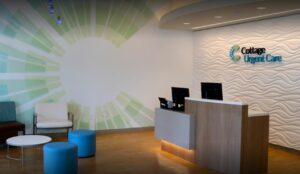 PROJECT DESCRIPTION: Renovation of 2,521 square feet of existing retail for urgent care office
ESTIMATED START: March 1, 2022
This is NOT a prevailing wage or OSHPD project.
The Applicable Trades: Demolition, Concrete, Fire Alarm, Cabinetry, Countertops, Profile Panels, Insulation, Doors and Hardware, Acoustical Ceilings, Drywall, Metal Stud Framing, Flooring, Painting, Solid Surface Countertops, Tile, Translucent Wall Panels, Lockers, Wall Guard, Signage, Nurse Call Flag Station, Toilet Accessories, Window Film, Window Treatment, Fire Sprinkler, Fire Extinguishers and Cabinets, HVAC, Plumbing, Electrical & Low Voltage
INSURANCE: Bidders shall provide the following insurance minimums: commercial general liability insurance products, completed operations, waiver of subrogation, protective coverage with non-owned & hired vehicles. $2 million each occurrence. Additional insured and hold harmless per endorsement CG 2010 form 1185 or equivalent, comprehensive automobile liability and Workman's Compensation Insurance, including waiver of subrogation, for at least $1 mil each occurrence. 
BONDING: Performance and labor bonding may be required; costs will be added to your proposal.
BID DATE:  January 27, 2022 at 2:00 PM
ADDITIONAL INFORMATION: No addendum has been issued at this time.
Email your proposals to estimating@mcgillivrayconstruction.com
MCGILLIVRAY CONTACTS:
NOTE: Plans and Specs can be viewed in our office Plan Room at 3140 Loma Vista Road, Ventura, CA. 93003